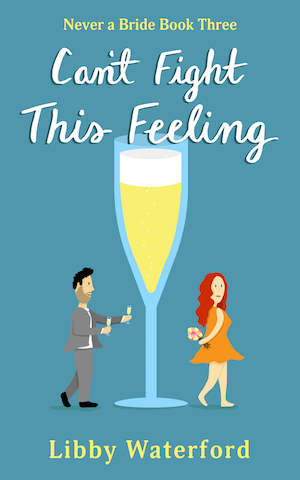 You can fight your past, but you Can't Fight This Feeling.
Kate Treanor gave up hope of having a family of her own when her fiancé died three years ago. But miracles—and mistakes—happen. After a scorching one-night stand with a stranger leaves her pregnant, Kate's determined to raise the baby by herself. But when she encounters the criminally charismatic baby-daddy at her best friend's wedding, she's torn between getting him to sign away his parental rights and getting him back in bed.
Playboy Oliver Mercier is thrilled when Kate reappears in his life—until it turns out she's more interested in having him forfeit his responsibilities than repeating a night he's never forgotten. Oliver is faced with upending his lifestyle to become a co-parent with the baby-mama he'll never stop wanting. He won't stop fighting for her, because he can't fight this feeling.
Book three of the steamy series about four bridesmaids at a Santa Barbara society wedding who form a pact to be Never a Bride.
Enjoy an excerpt from Can't Fight This Feeling
Rosie sits at a wooden patio table, pointing at something on her phone. Gus leans over her shoulder, smiling at her softly instead of whatever's on the screen. He's got it bad. I shove down the brief flare of jealousy and pull up my own chair.

"Hey, girl." Rosie looks as sleep-disheveled as Gus, in yoga pants and a loose breast cancer awareness 5K shirt. I briefly wonder if by being early I interrupted sexy times. 
Ugh, no need to go there, though of course I'm happy for Rosie. It's wonderful to see her relaxed and content. As long as I've known her—almost fifteen years now—she's always been Type A to a T, focused on her dream of being a doctor, always letting her social life sink to the bottom of the priority list. Since she met Gus, things have been different. She seems happy, which makes me happy.

"Coffee?" Gus asks.

"No, thanks." I can't help making a face at the thought. Coffee's another thing I haven't been drinking lately. The smell is too overpowering.

"I'm going to get dressed," Gus says, dropping a kiss on top of Rosie's head. She waves him away, her cheeks pinking up at the display of affection. God, they're disgustingly cute. They're everything I used to have. Everything the Never a Brides are supposed to disdain.

"Sorry I'm early," I say, to get my mind off this depressing train of thought. "I couldn't eat this morning, so I just got in the car."

"You couldn't eat? How else are you feeling?" Rosie asks, her focus shifting smoothly to me. She's a great doctor because she makes people feel heard, makes them feel taken care of. The relief of being around her is enough to make me a little teary. I'm not against crying, but only when I have a good reason.

"I don't feel great, but it's nothing major. My appetite has been off. I slept ten hours last night. Ten!"

"Well, you don't look sick." She looks me in the eye, asks me to open my throat and shines her phone's flashlight back there. "I could take your temperature, but I don't think you have a fever. I wonder…" Her mouth does a funny little twisting thing, as if she wants to smile, but doesn't know if she should.

"What?"

"Sweetie, when was your last period?"

I freeze as the implication of the question hits me like a punch to the solar plexus. Why hadn't I thought of it before? "Oh no."

"Kate?" Rosie looks concerned at whatever expression has broken out on my face. Something between horror and confusion, I expect.

"How could this not occur to me?" Seriously, I'd considered mono, flu, allergies, even psychosomatic illness. I had not considered pregnant.