Can't Help Falling In Love
Free series starter! Start the Never a Bride contemporary romance series for FREE by downloading this full-length, standalone, steamy rom-com right now at your favorite retailer.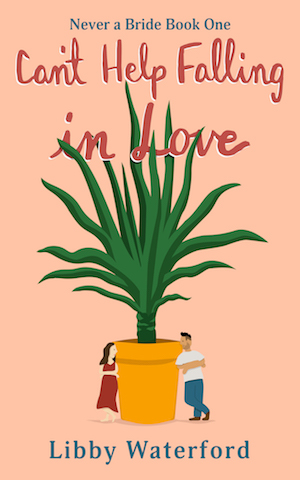 Keeping this staycation fling casual turns out to be impossible when you just can't help falling in love.
Dr. Rosie Snyder doesn't do vacations. Period. So when she's ordered to take three weeks off, she's at a loss until her best friend ropes her into fulfilling some bridesmaid duties by organizing an engagement party. Gus Cuevas, a cute gardener at the party's venue, might be the perfect distraction.
When Rosie suggests Gus complete her vacation checklist with a fling, he quickly agrees. He knows the driven doctor would never fit into his live-for-the-now lifestyle of surfing, sunshine, and cerveza, but spending a few weeks with the beautiful brunette suits him just fine.
It's not long before Gus realizes that three weeks together isn't enough—he wants a lifetime. But Rosie's not looking for happy ever after…even if it turns out she just can't help falling in love.
Book one of a steamy new series about four bridesmaids at a Santa Barbara society wedding who form a pact to be Never a Bride.
Enjoy an excerpt from the book…
"Dr. Rosie Snyder, I'd be honored to be your staycation fling," he says, a smile in his voice.
"Really?" Somehow I didn't expect it to be this easy. My body is on board, my arms almost of their own volition wrap around Gus's shoulders, a clear invitation for him to kiss me again, which he does.
This time it's less calm, but no less focused. Tongues definitely get involved, and my body starts tightening in places that don't get exercised by my treadmill runs.
"The only question is how fast you want to move, Rosie. You're in charge, here," he says firmly when we pause.
"That's good. I like being in charge," I say without thinking.
"No kidding." He's smiling as if he thinks the fact I'm a control freak is attractive or something.
I laugh. It feels so strange to be with someone I don't know very well but to feel so comfortable with. I don't do this—joke around and make plans. I don't go to barbecues. I don't hold babies. I don't surf. Suddenly, being so far outside my comfort zone makes me feel bold. What do I have to lose?
"So if I wanted to stay over…" I trail off, testing the idea.
"Yeah, sure," he says, voice casual. His fingers trace the joints of my elbows, slide to my hands. He brings one of my wrists to his mouth and kisses my pulse, which kicks into overdrive. One corner of his mouth quirks up. "Except I don't have a swimsuit that will fit you."