This book was chosen by a member of my book club as our fun and flirty summer selection and it did NOT disappoint!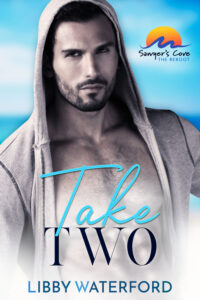 Take Two kicks off the Sawyer's Cove: The Reboot series, introduces you to Misty Harbor, the small town setting for all the Sawyer's Cove novels, and makes a fun, light, and satisfying book club read.
Here are some questions to guide your group discussion. If you're interested in having Libby Zoom in and say hello to your group, email books@libbywaterford.com for her availability.
Take Two features a show-within-a-book, a podcast about that show, and all your favorite small-town tropes from the cozy bakery to the town gossip, with a modern twist.
What did you think of the framing device of the podcast? Did it help you understand what Sawyer's Cove was about? Do you listen to recap podcasts?
Were you able to get a sense of the fictional TV show from the context? Have you watched real-life teen soaps like Dawson's Creek or Gilmore Girls?
Which of the secondary characters are you interested in learning more about? Who do you think will get a book later in the series?
What was your favorite scene in the book?
Which location did you most want to hang out in–the Inn with its comfy beds and big tubs? The Bakeshop? The Cove?
Have you ever met a celebrity? Did they give you a new impression of them? Who is the most famous person you've ever had a conversation with?
If you aren't a regular romance reader, what did you think of the genre? Would you be tempted to read more romances?
Did you know there's a prequel short story to Take Two? Get it for free by signing up for Libby's newsletter: Download Kate's Take here. Spend a day on the set of the original Sawyer's Cove and meet all our characters as teenage heartthrobs.
FYI: Erika, one of the podcasters, gets her own story in this anthology: Hot Take in Steamy Shorts
Thank you for choosing Take Two!