Lots of changes going on in my life right now. After ten years living in Los Angeles, my husband and I are packing up and moving clear across the country to southern Connecticut. We've been talking about and planning this move for some time, but now that it's happening, I've been so bogged down in the hard physical work of packing up our lives (and our two sons) and the minutia of moving that I've lost sight of the excitement of the change and I have, needless to say, not been writing much.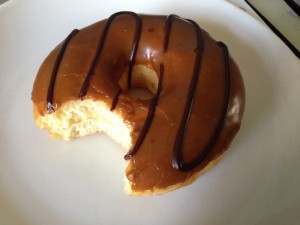 But, since today is my birthday (I'm turning a palindrome), and the movers don't come for six more days, I'm taking a break, eating some fantastic doughnuts, and reflecting on what an amazing year the last one has been. I gave birth to my precious baby boy (who's almost walking). I saw many of my friends add to their families with either first or second babies. And I published all three novellas in the Weston University series. My birthday almost coincides with the book birthday for Passionate History, the first book in the series. Hard to believe that novella is almost a year old, but, as Gretchen Rubin says, the days are long but the years are short.
To celebrate all this change and birthday goodness, I'm giving away all three Weston novellas to one lucky winner. Coffee Time Romance, a fabulous repository off all things romance novelly, is hosting the giveaway for me, so just head over there and follow the directions. Good luck!
If you happen to have read this far, and if you've read any of my books, please give me the best birthday present an author can ask for and leave a review for any of my titles on Amazon and/or Goodreads, or anywhere else that strikes your fancy. Reviews are so important to the life of a book and I'd be honored if you took the time to leave one for me.
Thanks and cheers!