I'm so excited about Jessica E. Subject's collection of sci-fi 1Night Stand stories. Not only are there five stories in one place, but they are all free this week only! Here's more about what you'll be getting:
INTERGALACTIC HEAT
a collection of 1Night Stand stories
by Jessica E. Subject
A date on a space station? Alien lovers? Madame Evangeline, owner of the exclusive 1Night Stand dating service is known to be magical in fulfilling the ideal dates of her clients, but she's outdone herself this time, bring together beings from Earth and beyond. As long as applicants are willing to let go of their pasts and open their hearts and minds, she will find their perfect match, whether they be a former sci-fi television star, a nurse, an employee of the Space Service, a former Marine, or even an extraterrestrial. Because everyone in the universe deserves a happily ever after…
169 pages
Contains: Beneath the Starry Sky, Celestial Seduction, Unknown Futures, Satin Sheets in Space, and Sudden Breakaway
Genres: Science Fiction Romance, Contemporary Romance, Lesbian Romance, Menage Romance, Military Romance, Interracial Romance, Erotic Romance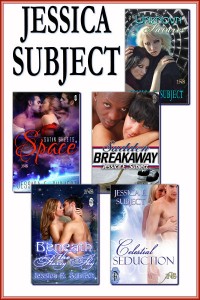 Available FREE for your Kindle!
July 31, 2014 to August 4, 2014
US | UK | Canada | Australia | Germany | Brazil | France | India | Italy | Japan | Mexico | Spain
Reviews:
Beneath the Starry Sky
"Instant attraction leads to heart pounding passion." – Coffee Beans & Love Scenes
Celestial Seduction
"If you've never thought of the stars as steamy, this [story] with have you rethinking the entire sci-fi genre." – The Indie Elite
Unknown Futures
"Unknown Futures…was tasteful, yet highly erotic and it handled the relationship between two women wonderfully." – Tracy Riva Books & Reviews
Satin Sheets in Space
"Jessica Subject is the queen of science fiction romance. Her stories pull you into other worlds where anything is possible. Satin Sheets in Space is no exception." – Sizzling Hot Book Reviews
Sudden Breakaway
"When Jared and Paige come together…it is hot enough I am surprised they didn't melt the ice in the hockey rink." – Cocktails and Books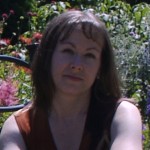 Author Bio:
Jessica E. Subject is the author of contemporary and science fiction romance, ranging from sweet to erotica. In her stories, you could meet clones, or a sexy alien or two. You may even be transported to another planet for a romantic rendezvous. If you're looking for something really steamy, check out her stories written as Paisley Brown.
When Jessica isn't reading, writing, or doing dreaded housework, she likes to get out and walk. Fast. But she just may slow down if there is a waterfall nearby.
Jessica lives in Ontario, Canada with her husband and two energetic children. And she loves to hear from her readers. You can find her at jessicasubject.com and on twitter @jsubject.
Website/Blog | Newsletter | Twitter | Facebook
Pinterest | Goodreads | Amazon | Authorgraph