Please welcome fantastic writer Zee Monodee who is here to share her latest release, Light My World, with us! I read this sweet romance in two days and thought it was touching and romantic. I asked Zee some probing questions because I wanted to know more about her Island Girl!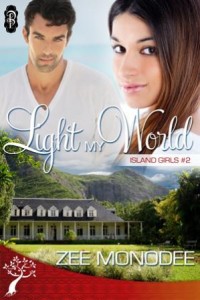 1. Your hero and heroine don't seem to exactly hit it off when they first meet. What makes them perfect for each other, even if they don't know it?
Well, I'm a firm believer in the theory that opposites attract. Diya is as exuberant as Trent is quiet – they sort of appeared like the yin to the other's yang, and vice versa. Complementary personalities. And I strongly believe that in any couple, each must be bringing something vital to the other. Diya craves an anchor, a lighthouse amid the storm that is her existence. While Trent's world is enclosed in darkness – he needs light, and lightness, that Diya can bring. The title is actually a play on this – it's the story of both Trent and Diya telling the other to 'light my world' from within, the way only love can.
Also, more often than not, when we are faced with something that is 'just right' or even 'perfect', our defense mechanisms jump into play to make us doubt and take our time before doing something rash…. So hate at first sight can simply be the defense mechanism when your soul recognizes the kindred spirit it needs to end up with, especially when that person doesn't fit the idea of what you always thought would be perfect for you.
2. Light My World is the second in the Island Girls Trilogy. Tell us about the other stories in the series.
The series follows the 3 Hemant sisters over the decade of 2000-2010 in Mauritius. It's a time when the society changed a lot – at the start of 2000, it looked very much one step ahead of a Third World country (only the rich able to afford cell phones, Internet costing a bomb, too, with access only through dial up; huge divides between have and have nots; people's mentality entrenched in the values and traditions of old ways). Fast forward to 2010 when Mauritius is now one of the most advanced developing nations in sub-Saharan Africa. Everyone between 4-94 owns a cell phone, or even two! Internet is broadband with access to the fiber optic cable. Big designers names like Armani opening outlets geared towards the population and not just tourists….
The trilogy uses this evolving society as its backdrop, and each story, while having the Hemant family at its core, focuses on one specific sister.
THE OTHER SIDE was the story of Lara, the eldest sister, and how she has to face a society that shuns her when she returns to the island as a divorcee. There's worse to come – because she crosses paths with the one that got away: her teenage love, Eric. Back in those days, she knew there'd be no hope for them, because Eric is from the aristocrat-like white population, while she is the descendant of indentured Indian laborers who came to work for those same white folks Eric belongs to. Never mind her family fortune or how far she might've come – color codes and race delineations exist all too well on the island.
But Eric is adamant they deserve a second chance…that the future is for them to decide, and not society. How much truth is there in that? Can Lara put her heart on the line again and risk losing it all because she'd be going against what society deems appropriate for her?
WINDS OF CHANGE is another tale that centers around the notion of society and what it expects. Neha, the middle sister, has never rocked the boat and always done what was expected of her (married early to a proper boy, popped out a few kids, had two male 'heirs', stayed at home to look after her family….) But there comes a point where she realizes there is no fulfillment in her existence. A part of her yearns to break free, but she will never rock the boat.
Until the boat is rocked for her – her husband is reported missing and considered dead during a Monsoon flood in India. A year later, Neha has to pick up the pieces of her life and start looking forward. First order of the day – get a job….and this lands her onto the path of Logan, a reformed bad boy and former New Zealand heavyweight boxing champion. The fire of desire and longing starts to burn in Neha, but she is the 'proper' one; she shouldn't be feeling this way, especially for a man so not right for her….
But sometimes, the right kind of wrong can be exactly what's perfect, as she'll come to discover once Logan sets out to win her heart.
3. Can you give us any sneak peeks into your work(s) in progress?
I have fingers in about 3-4 stories for my Daimsbury Chronicles series (these are short, small-town romances set in the fictional village of Daimsbury in Surrey, England). The series started with the story of Honor Whelan and Liam Morelli. I'm now planning (conceptualizing in my head before I put fingers to keyboard!) the stories of the Morelli clan – there's Luke, the world-famous underwear model, who crashes right into the local Texas-transplant calamity named Missy; their mother, Evelyn, who will find unexpected love during the time of menopause (lots of fun, that one!); and their sister, Joely, the makeup artist, who will have to decide whether or not to return home to land herself the man she has always loved. In the middle of all this, village fixture Megha Saran (and incidentally, Liam's ex-girlfriend) is diagnosed with breast cancer and when all hell seems to be breaking loose around her, will find an unexpected ally and friend in Magnus Trammell, illustrious shallow playboy and son of the village's "nobility" family.
It's fun to play in this world because I know every single person in there and it's easy to picture how each one will get his/her story down the line. 🙂
Then there's a story I am conceptualizing for the new Temptations line at Decadent. The backdrop is those big, wealthy, and scandal-ridden families like in Dynasty, Dallas, Revenge, and Gossip Girl, and it pits an uptight viscount named Darcy (of course, he had to be named Mr. Darcy!) against Leah, a girl from the wrong side of the tracks who overnight, finds out she is the illegitimate offspring of a business magnate and the only heir to his fashion store empire. Sparks fly between this bad girl turned good and the arrogant viscount who needs to loosen up. In the midst of all this, family is plotting from something as innocent as a marriage…to more sinister like a person's downfall.
4. Just for fun – what's your favorite non-romance novel?
I love reading memoirs – there's something about getting engulfed into the life and experience of a person that appeals to me. And there are too many to mention here! Jennifer Barclay's "Falling into Honey" is one of my faves (about her time in Greece). I also love everything kitchen-related, so Anthony Bourdain's "Kitchen Confidential" is another one I really enjoyed. In the same vein, I am looking forward to plunging into "Sous Chef: 24 Hours on the Line" by Michael Gibney.
I'm also a fan of Kitchen Confidential! I'll have to put those others on my to-read list! Thanks for stopping by, Zee! ~Libby
About Light My World
It is a truth universally acknowledged that to find a prince, a girl has to kiss a few frogs along the way. But what happens when a modern-day princess comes across…an ogre?
So what if a girl has to kiss a few frogs to find her prince?
Tired of her Indian-origin mother's relentless matchmaking, Diya Hemant is determined to find her Prince Charming on her terms. Armed with a definitive list of requirements, she is sure she'll know her man when she meets him.
But looking and finding are two different things, especially on the tiny island of Mauritius…
When her path crosses surly British widower Trent Garrison's, it's hate at first sight. And though fate keeps pitting her against him, she's certain he can't be turned into a frog let alone a prince.
Can this modern-day princess overcome her own expectations and see beyond the ogre to the man beneath?
About the author: Zee Monodee
Stories about love, life, relationships… in a melting-pot of culture
Zee is an author who grew up on a fence – on one side there was modernity and the global world, on the other there was culture and traditions. Putting up with the culture for half of her life, one day she decided she'd stand tall on her wall and dip toes every now and then into both sides of her non-conventional upbringing.
From this resolution spanned a world of adaptation and learning to live on said wall. The realization also came that many other young women of the world were on their own fence.
This particular position became her favourite when she decided to pursue her lifelong dream of writing – her heroines all sit 'on a fence', whether cultural or societal, in today's world or in times past, and face dilemmas about life and love.
Hailing from the multicultural island of Mauritius, Zee is a degree holder in Communications Science. She is a head-over-heels wife, in-over-her-head mum to a tween son, best-buddy-stepmum to a teenage lad, an incompetent domestic goddess, eternal dreamer, and an absolute, shameless bookholic. When she isn't penning more stories and/or managing the Ubuntu line at Decadent Publishing, you can bet you'll find her with her nose in her tablet, 'drinking in' a good book.
Buy Light My World
An excerpt from Light My World
Still squatting in front of the children, Diya peeked up for a first glance of him.
Brown linen trousers covered his long legs, and she craned her neck to take in his tall body and broad chest. He'd rolled the sleeves of his cream-coloured shirt to his elbows, revealing big, powerful-looking hands and strong forearms dusted in dark hairs. A tense, corded neck lay visible beneath the open collar of the shirt, with a slightly pointed chin above it. Strong jaw, and chiselled, taut, handsome features. Deep-set grey eyes, very much like the elder boy's, squinted at her beneath thick eyebrows the same hue as the neatly trimmed dark hair on his head.
Diya gaped. This hulking Adonis was her neighbour?
He has offspring to boot, whispered a little voice.
She snorted under her breath. Just her luck, again. He was taken. What is it with this weekend from hell?
"You?"
The word rolled off the Greek god's tongue, and the British accent and disbelieving tone dripping with spite jolted her like an electric current.
This man, and the savage who'd hit her car the day before, were the same person.
The surprise zinged through her; she gasped, and brought her hand up to cover her mouth.
In doing so, she lost her balance and toppled over onto her arse to lay flat on her back. Pain from hitting the hard marble erupted all along her spine, and she caught herself before the back of her head smashed into the floor. Quick save, and thank goodness most of the broken glass lay in her flat, and not in the lobby. She'd have been in for some major injury, otherwise.
"Are you okay, miss?" a little voice asked.
Would this nightmare ever end? She must appear like an undignified heap, and there went all the leverage she could bring to this meeting. Humiliation piled onto her anger at being caught in such a stupid position, in front of him, no less.
"No, I'm not okay." She glared at the oaf. "It's all because of you, you beast."
"Dad?" Matthew asked. "What's he done?"
Confirmation he was the boys' father. Great. Could something, anything, go right for her?
"Oh, forget it," she said as her voice broke.
Shoot, she wouldn't cry, would she?
"Of all the people in the world…."
He spoke the words softly. The disbelief in them wiped away her feelings of self-pity, and hurt like a stab, in the same go.
Was he rude by nature, or did he always itch for a fight? Either way, she wouldn't let him off the hook.
"What?" she asked. "Go on. What were you gonna say?"
"Nothing," he said through clenched teeth.
"It's not nothing. So don't be a chicken. Say it."
He remained stubbornly silent.
She glowered up at him. "So?"
He tightened his jaw. "You're the one person I hoped to never meet again."
This had to strike beyond rude. What a bastard.
Outrage at his insult filled her, but the distaste for him and his cavemen-like ways won the battle. "Same here, mate."
"You know each other?" Matthew asked as he peered back and forth at them.
"Yeah," they both growled.