Tara Quan stopped by to tell us about Delicious Delay when it first came out, and now it's on sale for a limited time only for just 99cents. I picked up my copy -don't forget to pick up yours!
Delicious Delay by Tara Quan – 99c SALE!
Thank you for letting me share my multicultural contemporary romance, Delicious Delay. The book is currently on sale for a limited time. You can grab it for only 99c from Amazon, B&N, AllRomance, and Decadent.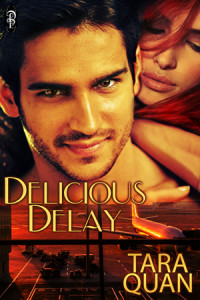 After my own not-so-delicious delay in the Middle East, I set out to write something funny, sexy, and set entirely in an airport lounge. It's a quick summer read meant to make your mouth water (from the food…) and your toes curl. I hope I've piqued your interest enough to give one of the links below a click. ~Tara Quan
Delicious Delay
Stranded in a Middle Eastern airport, Michelle Day finds herself the object of interest for an abrasive, but all-too-sexy stranger—a stranger who tempts her with the forbidden in a land where indecency could get her killed. But how does one say no to such a deliciously, relentless pursuit?
Khalid Al Dehri takes one look at the red-headed spitfire in the business class lounge and knew he'd either been transported to heaven—or hell. Her tart response to his surliness intrigues him beyond all propriety and the longer he spends in her company, the more he can't deny his forbidden attraction. But will she explore the sensuality between them or will society's rules keep them apart?
Buy Links: Amazon | B&N | Decadent | AllRomance | GoodReads
About Tara Quan
Globetrotter, lover of languages, and romance author, Tara Quan has an addiction for crafting tales with a pinch of spice and a smidgen of kink. Inspired by her travels, Tara enjoys tossing her kick-ass heroines and alpha males into exotic contemporary locales, fantasy worlds, and post-apocalyptic futures. Armed with magical powers or conventional weapons, her characters are guaranteed a suspenseful and sensual ride, as well as their own happily ever after. Learn more at www.taraquan.com
Website | Facebook | Twitter | Google+ | Goodreads | Pinterest | Amazon
An Excerpt from Delicious Delay
Left with a single option, Michelle made her way down the aisle toward the mysterious stranger. A fragrant aura of myrrh and spice surrounded him despite the trail of sweat trickling down the side of his face. His neatly trimmed beard covered his square jaw like a dark shadow. His cheekbones slashed high, at a dramatic angle. Supermodels would kill to possess those long curly eyelashes.
Mid-thirties, she'd say, though he could be older. Born with oil-coated diamond spoons in their mouths, natives of the Gulf seemed to age at a slower rate than most.
"Excuse me. Would you mind translating what they just announced?"
He whipped his head to face her. She had to stop herself from jumping back. Some people entered this world with a commanding presence, and this man epitomized the phenomenon. She wouldn't describe his features as handsome — his face possessed a certain edge that would make most people avert their gazes. For some reason, hers remained glued to his almost black eyes.
Feminine instinct stirred in awareness. Her knees shook. The tips of her fingers itched to touch his tanned skin. As if it had a mind of its own, her hand moved in his direction. Horrified, she diverted it to smoothen her hair and wipe perspiration off her face. Her mouth suddenly dry, she licked her lips. A tendril of heat lanced through her. His dark gaze raked her from head to toe before zeroing in on her bared legs.