I'm so happy to have Cassandra Dean back to share her new box set of historical western romances from Decadent Publishing. I'm always up for a great historical, and a western can be super fun, too. Check these stories out!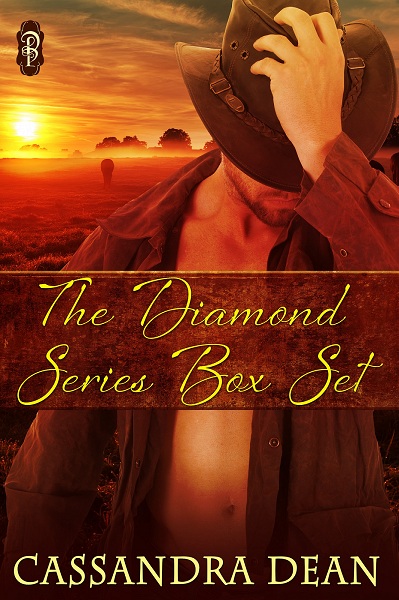 About The Diamond Series Box Set
Stop on by the Diamond Saloon, where devious Englishmen blithely charm sceptical saloon owners and where voluptuous singers archly tease the strong, silent type. Enjoy these two sexy tales from Freewill, Wyoming.
ROUGH DIAMOND
Owner of the Diamond Saloon and Theater, Alice Reynolds is astounded when a fancy Englishman offers to buy her saloon. She won't be selling her saloon to anyone, let alone a man with a pretty, empty-headed grin…but then, she reckons that grin just might be a lie, and a man of intelligence and cunning resides beneath.
Rupert Llewellyn has another purpose for offering to buy the pretty widow's saloon—the coal buried deep in land she owns. However, he never banked on her knowing eyes making him weak at the knees, or how his deception would burn upon his soul.
Each determined to outwit the other, they tantalize and tease until passion explodes. But can their desire bridge the lies told and trust broken?
FOOL'S GOLD
Christmas Eve, the Diamond Saloon is empty of its people, and Pearl la Monte has a hankering to retire early. A pounding at the Diamond's door rids her of such a fool notion. Her irritation rises when she sees the prissy, polite-like Garrett standing outside.
Ethan Garrett has a powerful need to gain succor. When the saloon's voluptuous redheaded singer scowls at him from the threshold of the Diamond, he doesn't stop to think on how his ire at her has disappeared. Or how he just wants to spend some time in her company.
When a blizzard storms in, trapping them, will they spend their time arguing or find their irritation for each other disguises something more?
Buy Links:
Amazon US – http://amzn.to/1g4Hgfc
Amazon AU – http://bit.ly/1dpU7qI
Amazon UK – http://amzn.to/1cFVmRP
Amazon CA – http://www.amazon.ca/dp/B00Z4RYAQY
Amazon DE – http://www.amazon.de/dp/B00Z4RYAQY
Amazon IN – http://www.amazon.in/dp/B00Z4RYAQY
Kobo – http://bit.ly/1cGcwyH
Google Play – http://bit.ly/1KWngIk
About the author
Cassandra Dean is the author of historical romance ranging from sweet to steamy, playing about in the eras, roaming from Ancient Rome to Victorian to the Old West and beyond. Her books take readers on an emotional rollercoaster, from the lowest of lows to the joyous of highs. And, of course, her characters fall into the forever kind of love.
Visit Cassandra's website at http://cassandradean.com
Join Cassandra's mailing list at http://eepurl.com/kzesP
Follow Cassandra on Facebook at https://www.facebook.com/AuthorCassandraDean
Twitter @authorCassDean
Contact Cassandra at cassandra@cassandradean.com
Excerpt from ROUGH DIAMOND
Lifting the glass, Alice studied its contents. "There is nothing quite like the enjoyment you get from a good whiskey. There's the look and color of it, and the way it burns in the light."
"It's the same color as your eyes," Llewellyn breathed, his own wide and empty of thought.
A smile tugged at the corner of her mouth. That's right. Fool me into thinking there's not an ounce of calculation to your words. "Is it? Mighty kind of you to notice."
A happy grin was her response.
Well now, she was surely going to enjoy this. Setting her own half-smile, she tilted her glass, watching as the whiskey caught the light of the candle. "Have you ever noticed the feel of glass? It's smooth against your fingers, and though the whiskey burns you, the glass is cool. It seems strange, doesn't it? That such fire could come from something so cool."
Intensely aware of his gaze upon her, she brought the glass to rest on her bottom lip. "You lift the glass to your lips, and all that coolness rests upon your flesh. The scent of the whiskey hits you, sweet and fiery. Your mouth waters, and you can't wait to have it inside you. Slowly, so slowly, you tip the glass, teasing yourself as long moments in want of its taste stretch unbearably."
He no longer wore a smile. Dark eyes watched her as strong fingers dug into the glass before him.
A prickle washed over her skin, her heart a steady beat in her chest. With hushed voice, she continued. "Liquid slides down your throat. The flavor explodes inside you, a glorious rush of sensation that overwhelms and consumes. You curl your tongue, enjoying the lingering sensation in every part of your mouth. Then, you look at the bottle." Finally, she met his gaze direct. No subterfuge. No tease. "And you know you can do it again."
Excerpt from FOOL'S GOLD
Turning on her heel, Pearl marched off toward the stairs.
A weird kind of panic jolted through Ethan, one he'd never felt before in all his days. It was…he didn't…. She couldn't leave him. "Where are you going?"
She whirled to face him, her irritation plain. "I was seeking my bed before your arrival, and now I'm seeking it again. Help yourself to whiskey this one time. I got better things to do."
Shoving to his feet, he strode to her. "Don't just walk away when we're discussing things."
"We ain't discussing nothing. You'll be down here, waiting out the blizzard. I'll be in my bed, doing what I was gonna before you arrived. That's the end of it."
Taking a step, she made to leave him. Again.
He grabbed her arm. "Don't leave me."
"Don't tell me what to do." Glaring at him, she stood before the bar, her magnificent hair slipping from its pins, her breasts rising and falling.
Abruptly, his mouth went dry. Clearing his throat some, he said, "You're supposed to offer succor to those in need."
"We're closed, remember?" Paint-less lips pressed tight together, she glared up at him.
They were so close he could see the faint marks of freckles on her skin.
Pearl La Monte had freckles.
A kind of haze came over him, tightening his skin and bringing with it something all-fired powerful and completely unstoppable. All the years he'd known her crashed through him, all the times she'd flirted with him and meant something else, all the times he'd seen her perform on stage and wished he could have held such fire.
Grabbing her upper arms, he hauled her against him and, ignoring her shocked gasp, he covered her mouth with his.