Cassandra Dean is here sharing the latest in her Silk Series, Silk & Scars, a sweet historical romance from Decadent Publishing that is out now!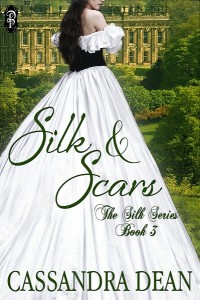 About Silk & Scars
For over a year, Miss Gwendolyn Parkes and the Duke of Sowrith have corresponded. At first an error, the letters quickly became something much more, a friendship forged on like minds and perhaps the hope of something more…
When Gwen is compelled by her employer to attend the duke at his Dartmoor estate, she is devastated to find her beloved friend cold and imperious, even if he is the most handsome man she's ever seen – despite his scars.
Edward, Duke of Sowrith, has longed to meet Gwen. Arranging her passage to his estate, he is tongue-tied when confronted with her quiet beauty. All too aware of the twisted ruin of his face, he allows fear to hold him silent…until Gwen's safety is threatened.
Finally together, they grow closer until it seems they can never again be apart – but can a commoner and a duke find a happily ever after?
Buy Silk & Scars
Other books in the series:
SILK & SCANDAL (The Silk Series Book 1) – http://cassandradean.com/books/the-silk-series/silk-scandal/
SILK & SCORN (The Silk Series Book 2) – http://cassandradean.com/the-silk-series/silk-scorn
About the Author
Cassandra Dean is a best-selling, multi-published author of historical and fantasy romance. Her latest novel, SLUMBER, is part of Decadent Publishing's Beyond Fairytales and features Cassandra's take on Sleeping Beauty. Her next novel, SILK & SCARS, is part of her popular Silk Series, featuring Victorian Era lawyers and their happily ever after.
Cassandra is proud to call South Australia her home, where she regularly cheers on her AFL football team and creates her next tale.
Visit Cassandra's website at http://cassandradean.com
Join Cassandra's mailing list at http://eepurl.com/kzesP
Follow Cassandra on Facebook at https://www.facebook.com/AuthorCassandraDean and on Twitter @authorCassDean
Contact Cassandra at cassandra@cassandradean.com 
Printable Book List
http://cassandradean.com/wp-content/uploads/2015/02/Cassandra-Dean-Printable-Book-List.pdf