Please welcome Christy Gissendaner, who guest posts today about her newest, In Too Deep. I have to tell you, the excerpt got me hooked!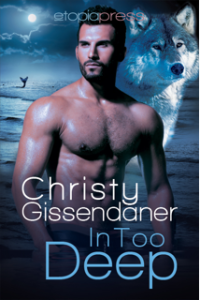 Take one bridesmaid. Mix in one sexy alpha wolf. Toss is in a pinch of danger. And voila! You have my latest release, In Too Deep. For this one, I got to combine several of my favorite things. Shifters, weddings, beaches, and mermaids. I know, I know. It seems like an odd mixture, but I had a lot of fun writing it.
I haven't publicized the "secret" behind Emma's (the heroine) background on purpose. It's even mentioned she's "human" in the blurb. That isn't entirely true. As I wrote this book, I noticed I mentioned the ocean and the current quite a bit during Emma's scenes. So when I came up with the idea to expand on the paranormal nature of the book and explained it to my husband, he gave me the crazy eye. Mermaids? Really? I knew I wanted her ancestry to be a bit of a twist, but even I didn't expect it to come together like it did.
Wolves and mermaids do seem an awkward pairing, but trust me. It's not as simple as it seems. Emma isn't quite a mermaid, although she does have an affinity for water that is quite awesome, in my humble opinion.
And check out that cover? Isn't Drake one sexy hunk of an alpha male? But perhaps even better than the man on the cover, is the little hint of what's to come that can be found on the left side. See that little fin flipping there? I loved having it included. And no, it's not a whale. ; )
Before I go, I would like to thank Libby for having me. Happy reading, ya'll! 
In Too Deep
Christy Gissendaner
Genre: Contemporary, Paranormal Romance
Publisher: Etopia Press
Number of pages: 274
Word Count: 54,654
About In Too Deep
 He'll risk everything for the love of one human.
Agreeing to be her good friend's bridesmaid, Emma Anderson jets off to Tybee Island for the wedding. Her dress is perfect and her shoes are adorable, but her friend's elegant beachside home hides an ancient secret…one that threatens to expose a secret society of werewolves.
Drake Randolph has watched his sister's friend grow into a ravishing woman, but he's always kept his distance. As the heir to the Randolph fortune and the alpha of the Secret Society of Savannah Lycanthropes, Drake cannot afford to draw the innocent little brunette into the dangerous lycan world.
Passion between them soon blazes hotter than the Georgia summer. But when the wrong woman is kidnapped to prevent the wedding of a lycan to a mortal, Drake must risk everything to save Emma from the ones who will see the downfall of all he holds dear.
Buy In Too Deep
Excerpt from In Too Deep
Kicking off her white sandals, she descended a set of wooden stairs and stepped onto the sand. It squished between her toes, damp and still warm from the heat of the afternoon. The moon shone over the water, gleaming in the waves pulling toward the shore.
She stood at the water's edge. The current sucked at her toes, burying them in sand, and she absorbed the soothing sounds of nature. She tipped her head back and closed her eyes. Perfect.
For a moment, she flashed back to her childhood. Not the endless summers she'd spent with the Randolphs. Earlier than that, long before her father's death. A memory floated out of her grasp, on the edges of her subconscious but always moving away from her.
The water surrounded her ankles, the tendrils of the tide resembling a caress. As if someone touched her.
She opened her eyes, startled by the sensation.
A particularly large wave crashed around her legs. Thrown off-balance by the unexpected surge, she stumbled a bit until she regained her footing. Whatever memory she'd been chasing fled, replaced by the shock of the water splashing against her knees.
She returned her attention to the water. It eddied around her, the glow of the moonlight reflected in the tiny swirls of liquid. Bending down, she touched the surface and a jolt of energy poured through her. She lurched backward just as another wave crashed against her.
Weird. She moved closer to the shore, not afraid of the ocean but concerned by her reaction to it. Something wasn't right.
The cry of a seagull jerked her back to the present. She glanced down and grimaced at the soaked bottom half of her dress. She didn't mind as much as she should. At least the delightfully cool water eased some of the oppressive heat of the day.
The breeze, which had been strong all day, caressed her bare shoulders and ruffled her hair. She lifted her arms and twirled, letting out a tiny sound of pleasure.
At the end of her twirl, she caught sight of a figure standing alone on the patio. The moonlight wasn't needed for her to recognize Drake. No one else had such a commanding presence. He tugged at her heart like the ocean's current tugged at her ankles.
About the Author
Christy Gissendaner is a romantic comedy author and believes that laughter and love should go hand in hand.
Christy lives in Alabama with her husband and three sons. She's always hard at work on her next novel, but in her spare time she loves blackjack, karaoke, and anything resembling a vacation!
To find out more, please visit http://christygissendaner.webs.com
http://www.twitter.com/christygis
http://www.facebook.com/christygis