Please welcome Constance Bretes, here to share her new release, Love Songs, and check out her giveaway below!
Thank you for hosting me today with my new release, "Love Songs."
Separated by fame, reunited through music.
About Love Songs
When Jennifer Summers returns to the U.S. after spending two years in Africa, she has some decisions to make. Should she resume her singing career or continue to live a secluded life out of the spotlight in the hopes that her stalker won't be able to locate her?
Years ago Jake Ackerson let Jennifer go so she could pursue her dreams. When she suddenly returns to their hometown he's determined to rekindle his relationship with the woman he never stopped loving.
Jake's band is temporarily without a singer, and Jennifer agrees to take the position, but in doing so she is once again pushed into the limelight, and she knows it's only a matter of time before danger strikes.
Will Jake be able to protect her, and can he convince her to put past hurts aside and give their relationship another shot?
Buy Love Songs:  AmazonUK | Amazon.com | Barnes&Noble | Beachwalk Press | All Romance Ebooks | BookStrand | Kobo
Rafflecopter
a Rafflecopter giveaway
Excerpt from Love Songs
After they finished their meal, they took the dishes inside, rinsed them off, and put them in the dishwasher. Jennifer looked up at Jake. "Thank you for dinner. I enjoyed it."

"I'd like to do this more often." He smiled at her and put his hands on her waist.

"What, dinner together?" Jennifer asked.

"And that too." Jake looked deeply into her eyes.

Suddenly the song Maybe Later echoed out. Jennifer looked at him confused.

He smiled and cocked his head. "My ringtone." He went into the other room to grab his cellphone and answer it.

When he came back, she asked him, "You have me on your ringtone?"

"Yep." He smiled.

He came to her and drew her close to him. She lifted her head up to meet his kiss. His kiss started gentle and slight, then became stronger and more forceful as he slipped his tongue

inside her mouth. He kissed her jawline, her cheeks, and back to her mouth again. His hands gently caressed her arms and to her breasts.

Jake pulled back and asked, "Are you ready for this, Jenn?"

"Oh yeah," Jennifer whispered.
About the Author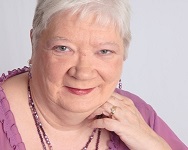 Constance Bretes is an author of contemporary romance and suspense. Her romance books are often set in different parts of the country, but her favorite site is Montana. She's married to her best friend and resides in Michigan with him and a houseful of cats. When she's not at her regular 8 to 5 job, she can be found writing, researching, and spending time with her husband.
Constance's Website | Reader eMail: cbretes@sbcglobal.net | Amazon | Facebook | Goodreads