I invited my fellow East Valley Author member, critique partner, and friend, Diane Benefiel, to answer some probing questions about her brand-new debut release, a romantic suspense from Decadent Publishing called A Need to Protect. Please give her a warm welcome, and be sure to check out the book!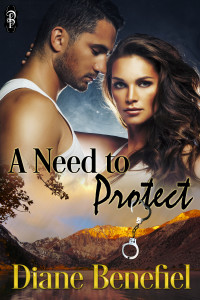 Lelah,
Thank you so much for inviting me to guest blog on your site. I enjoyed the process of writing A Need to Protect. There were definitely some challenges but the thrill of seeing my book in print has certainly made all those early morning rewrites worthwhile.
In your debut novel, A Need to Protect, the hero is the local Chief of Police. What research did you do to flesh out his character?
I wanted Police Chief Bradley Gallagher to be realistic so I bought a reference book on police procedures that gave me a basis beyond what I've seen on TV. In addition, I have a relative in law enforcement and I talked through a couple of scenes with her. Since A Need to Protect is character driven more than a police procedural, I really tried to make Brad the type of person who would be a really good cop. I took what I thought were the most admirable characteristics of a police officer and heaped them all on him. He's a standup guy, intense, dedicated, and very focused. Honesty and integrity just about ooze from his pores. This is the kind of guy you'd want as a cop, right? It's also a very sexy combination. It's no wonder heroine Emma Kincaid has a hard time keeping her hands off.
Did you base the town of Hangman's Loss (love the name, by the way!) on a real town or make it up entirely?
Hangman's Loss is based on the beautiful mountain resort of Convict Lake in the Eastern Sierra Nevada Mountains of California. As a child and again as an adult, I stayed at the rustic 1940s cabins that feature in my novel. There is no town or ski slopes there so I took inspiration from the cities of Mammoth and June Lake to create the town of Hangman's Loss. By the way, that name plays loosely on the history and name of Convict Lake.
Tell us a little about your current work in progress!
My current work in progress is a romantic suspense titled Shot Through the Heart.  My heroine is Rane Smith, an ER nurse who finds her past coming back to haunt her when her ex-boyfriend, the brother of a notorious drug smuggler, is let out of prison. The cops want this family permanently off the streets, so Detective John Garretson goes undercover to get what he needs to make the arrest. You can imagine how steamed Rane is when she discovers her hunky new tenant is really an undercover cop tasked with finding out what she knows. I love writing the dialogue as the sexual tension builds between these two strong-minded characters.
What's your writing routine like? Do you have a daily word count goal or just go with the flow?
For me, it's definitely "go with the flow"! During the week, (yes, I have a day job), I try to work on something every evening, whether it's sorting through email, writing blogs for future use, or just reading articles to help hone my craft. I try to spend at least four to six hours writing on the weekends but since that's when all the boring stuff (cleaning house, groceries, laundry) also has to get done, that doesn't always happen.
And here's a silly one…what's your favorite Girl Scout Cookie?
What a great question! I love, love, love Tagalongs. Those are the ones with a cookie and peanut butter combo covered with chocolate. There are others that I can't not buy (Thin Mints being one) but Tagalongs are at the top of the list. It's a good thing they're only available once a year. I have a friend who buys enough for the year and freezes them. I think I'd do that too, except my freezer isn't big enough.
 I think Tagalongs are my favorite, too, though no Girl Scout cookie season is complete without at least one Thin Mint! Thanks for stopping by, Diane! ~Libby
About A Need to Protect
Ready to hit the reset button on life, Emma Kincaid embraces her unexpected inheritance and heads to Hangman's Loss, the only place she's ever experienced happiness. But when her garage goes up in flames and someone breaks in, it soon becomes clear that Emma is the target of something far worse than malicious pranks. To survive, she'll have to trust the local chief of police—an impossible task because Emma's past taught her not to trust men in uniform.
Everyone in Hangman's Loss trusts Bradley Gallagher to protect them; he's the Chief of Police. Everyone that is except prickly newcomer Emmaline Kincaid. But when the attacks on her continue, Brad will do everything in his power to keep her safe, including putting his life on the line.
The race to find the predator forces Brad and Emma to work together. Sparks fly as they butt heads, but a gun aimed at the heart has a way of shaking up priorities. Can they trust one another enough to have a future?
Buy it now
An excerpt from A Need to Protect
Not giving herself time to change her mind, Emma crouched low and ran.
She sprinted through the clearing, eyes focused on her goal. A black shadow, darker than the rest, detached from the corner of the building. She reacted in an instant, but it was an instant too late. She dodged, tried to brace for impact, and was taken down in a diving roll to just under the garage window. Her attacker took the brunt of the fall, and Emma landed heavily against a solid body, her flashlight knocked from her grip. Heart slamming in her throat, adrenaline kicked in and she scrambled to disentangle arms and legs. She bit back on a scream. She couldn't bring Dory rushing into trouble. Struggling desperately, she tried to dislodge a calloused palm that closed over her mouth. "Dammit, Emma! It's me."
Emma stilled instantly. Brad's arms tightened around her as she sagged against him and relief washed through her. He rolled so she was farther under the shadow of the eaves. He pulled her up with him into a crouching position, an arm around her shoulders. Voice low, his lips moved against her ear as he spoke. "There's one man inside and the back door is open. I've been watching for an accomplice but haven't spotted anyone. I think he's alone."
Even in shadow Emma could see Brad scanning the terrain. The hand cupped at the back of her head pulled her closer. Voice rough, he whispered, "I called for backup but dispatch said there's an accident out on the highway and all our cars are out there. She'll peel one away, but it'll be a few minutes before it gets here."
He paused, breath warm on her cheek. He cocked his head, listening, a finger to his lips. Then she could hear it too, a whooshing sound from inside the garage. Brad reacted instantaneously, pushing Emma to the ground, using his body to shield her. The window above them exploded. Glass shattered outward and flames shot from the window.
Find Diane
Twitter: @DianeBenefiel