Please welcome Haley Whitehall to the blog today to share some tidbits about herself and her new release, a historical romance titled Midnight Heat. Thanks for stopping by, Haley!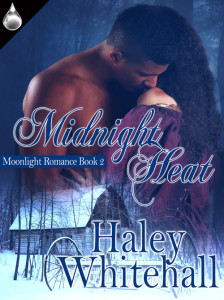 1. Your latest release, Midnight Heat, is set after the Civil War. What kind of research did you do to get those authentic period touches?
I have a large Civil War era library with diaries and textbooks, and I consult them frequently. The little touches are always what make any book special, but especially a historical one. I actually bought another book solely for this series and I love it! I highly recommend Black Life on the Mississippi: Slaves, Free Blacks, and the Western Steamboat World by Thomas Buchanan.
2. Would you describe your hero as an "alpha male?" Do you have a preference when it comes to writing heroes who are alpha or beta?
Um…both. Funny answer, right? I think George is an alpha male at heart, but in order to meet Allison's needs (due to the abuse she experienced in her past) he becomes more of a beta and lets her take control of the relationship. I think this really shows how strong of a man he is and how much he really loves her.
And to answer the second part of your question I really don't have a preference when writing heroes. I tend to write both alpha and beta 50 percent of the time. When reading romance I don't like heroes who are too alpha. The tough Navy Seal guys don't do it for me.
3. I'd love to know a bit about your writing process – do you write every day? Do you have a word count you try to hit, or do you let the words flow more organically?
I'd love to set a word count each day, but right now that isn't realistic. I am only a part-time writer and my day job as an in-home caregiver drains me of energy and creativity. I do try to write every day. Even if I only write one hundred words that's something. I let the words flow organically unless I'm on a deadline and for my own sanity I do set deadlines for myself. I have to get my books written. I have too many ideas in my head waiting for their turn.
4. Tell us a little bit about your current work in progress.
I am currently taking a short break from the Moonlight Romance series, and trying to write something a little bit different than my usual historical romance. My current work in progress is a paranormal romance between a female archeologist and the ghost of a Civil War soldier. If all goes well this will be the start of another series.
5. Divergent or Hunger Games?
Hunger Games. The first book is my favorite.
Blurb:
Living in St. Louis, Missouri is a nightmare for Allison. It is 1868, but for her slavery never ended. After enduring years of abuse, she reaches her breaking point. She sees a fiery death as her only escape. She did not expect to live through the night, but George came to her rescue and changed her plans. Now she has a chance to fulfill her dream of falling in love and having a normal relationship with a handsome black man. But will he accept her with her baggage and the dark secrets from her past?
At eighteen, George is ready to make his own way in the world. He leaves his brother's farm and gets a job as a roustabout. Working on the Mississippi River gives him the freedom he craves. Going ashore one night he sees a shack along the waterfront on fire. He never expected to find a beautiful colored woman trapped inside. Protective instincts kicking in, he instantly wants to be her man and take care of her.
Will he be able to gain her trust and love or will the memories of Allison's painful past burn their relationship to cinders before it has begun?
Buy Midnight Heat:
Liquid Silver Books: http://www.lsbooks.com/midnight-heat-p868.php
Amazon.com: http://tinyurl.com/meu7tug
Amazon.uk: http://tinyurl.com/leno4vv
ARe: http://tinyurl.com/llqjplf
About Haley:
Haley Whitehall lives in Washington State where she enjoys all four seasons and the surrounding wildlife. She writes historical fiction and historical romance set in the 19th century U.S. When she is not researching or writing, she plays with her cats, watches the Western and History Channels, and goes antiquing. She is hoping to build a time machine so she can go in search of her prince charming. A good book, a cup of coffee, and a view of the mountains make her happy. Visit Haley's website at http://haleywhitehall.com.
Haley loves to connect with readers. You can find her here:
Twitter: http://twitter.com/HaleyWhitehall
Facebook: http://www.facebook.com/LightonHistory
Goodreads: http://www.goodreads.com/author/show/5752677.Haley_Whitehall
Blog: http://haleywhitehall.com/blog/
Amazon Author Page: http://www.amazon.com/Haley-Whitehall/e/B0078EO6CE/
Newsletter: https://tinyletter.com/HaleyWhitehall