I've got another new release box set to share today, this one from prolific sci-fi romance author Jessica E. Subject. Jessica's books are so much fun as they explore new world, new life forms, and the ability of love to bridge such differences between her characters. Plus, she's hosting an incredible giveaway. See below!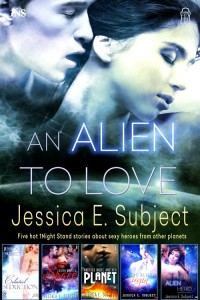 An Alien to Love
A collection of 1Night Stand stories
By Jessica E. Subject
Five HOT 1Night Stand stories by Jessica E. Subject about sexy heroes from other planets.
What do a librarian, a nurse, a director's assistant, a housekeeper, and an orphan have in common? They all end up spending an evening with a gorgeous stranger. But, will one night lead to more, or will the women end up running away when they learn their sexy suitor comes from another planet? Find out in these five sensual 1Night Stand stories by sci-fi romance author, Jessica E. Subject.
Contains: Celestial Seduction, Satin Sheets in Space, Another Night, Another Planet, His Alien Virgin, and Her Alien Hero
Available from
Amazon US | UK | Canada | Australia | Germany
All Romance | iBooks | Kobo
Giveaway
To celebrate the release of AN ALIEN TO LOVE, and four years published, Jessica E. Subject is hosting a contest for a $25 e-gift certificate from Amazon.com or All Romance eBooks. Enter using the Rafflecopter widget placed below, or follow the link.
Please Note: Contest is international. No substitutions can be made. Must be 18 or over to enter. Void where prohibited by law. Good luck!
Enjoy an excerpt from Satin Sheets in Space:
That's it, I'm leaving. She didn't need to stick around and be reminded of another night she'd been stood up by a blind date and passed over by every other available male.

After slipping her shoes on and grabbing her clutch, she headed for the door.

"Leaving so soon?"

She shivered at the sound of the deep, sexy voice. Spinning around, she gazed up at an enormous, captivating man. Very rarely did she meet a guy so much taller than herself. His black velvet justacorps fit tight across his broad shoulders, but not too snug. And the silk shirt lining his wide chest matched the color of her dress. Almost as if they were made for each other. I can only hope.

Flowing down his back, his long, thick, dark mane appeared to have feathers throughout. In the dim lighting, his hair, and even his skin had a faint blue glow. She couldn't help but be enthralled by his presence; was sure she stood in front of him with her mouth hanging open.

"I…I'm going home."

"When the night is still so young?" He brushed his hand down her bare arm. "What could be more fun at home? Perhaps you might even enjoy some company?"

How she'd love to spend the night in this man's company. But this had to be some kind of joke. She looked around for cameras, anxious faces. No one as hot as this man could want to spend a night with her. "It's been a long day. I was stood up by my date, and my friends no longer need me to stick around."

Great! She'd just told the guy she was alone. Might as well have put a target on my back.

He rested his hand on her hip, sending intense sexual energy zinging straight to her core. "You mean you wouldn't want to enjoy an evening in my company? Because I'm your date."
About the author
Jessica E. Subject is the author of contemporary and science fiction romance, ranging from sweet to erotic. In her stories, you could meet clones, or a sexy alien or two. You may even be transported to another planet for a romantic rendezvous.
When Jessica isn't reading, writing, or doing dreaded housework, she likes to get out and walk with her giant, hairy dog her family adopted from the local animal shelter.
Jessica lives in Ontario, Canada with her husband and two energetic children. And she loves to hear from her readers. You can find her at jessicasubject.com and on twitter @jsubject.
Website/Blog | Newsletter | Twitter | Facebook
Pinterest | Goodreads | Amazon | Authorgraph