Coming Soon – on Pre-Release Now! Paranormally Yours arrives December 5th.
Seven of today's hottest paranormal authors come together to bring you a boxed set guaranteed to keep you warm on a cold winter's night. Do shifters make you howl? Or do you prefer the bite of a vampire? Perhaps the controlling hand of a demi-god is more your style. Paranormally Yours has a story—or seven—to set your pulse racing.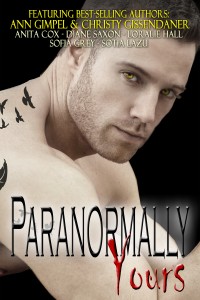 Including
For Heaven's Cakes by Diane Saxon
Twelve years of living in Ireland smoothed Beau's rough edges, and hard work as a construction worker made him a wealthy man. The call of his pack is stronger than he can resist though, and he isn't averse to returning to show his small home town in America what he's made of himself.
What he doesn't anticipate is meeting the local pharmacist's daughter – in his wolf form. By day, he renovates the pharmacy, and tries to cajole the lush assistant into having dinner with him. By night he watches Catherine bake her fantastic creations and blossom through her art.
Sleeping on her bed each night in his wolf form isn't exactly ideal, but how does he tell her the wolf she's come to love, is the man she lusts over?
Excerpt from For Heaven's Cakes
The cracked, peeling paint looked different from the way it had twelve years earlier when Beau had been a regular visitor to the pharmacy. His younger brother obviously still was from the way he strode inside, allowing the door to bump against the stopper and bounce back. It creaked and groaned at the stress, and almost hit Beau in the face. He shot his arm out to stop the door with the heel of his hand, feeling the crackle and splinter of the paint against his skin while he observed the quick grin on his brother's face as Zeke glanced over his shoulder at him. Bloody kid, never would grow up. Zeke would have just laughed if he'd managed to break his nose for him. Always one to challenge the supremacy of the pack, he'd probably ruled the town in the absence of his two older brothers.

Zeke had taken pride in showing him around. A lot had changed, fast food restaurants had sprung up – they'd filled their bellies in one, enjoying the rich taste of the promised breakfast.

With a shake of his head, Beau wiped the shards of old paint from his hand and stepped inside.

Doc Tyler must still own the place from the way the shelves were stacked – exactly the same as they always had been. Beau tracked his gaze around the pharmacy, noted the perfect placement of each item, not a speck of dust in sight, unlike the outer shell of the building. On a closer look, the shelves had deteriorated, some of the screws had pulled loose and not been fixed back into the wall.

He'd bet his life the old boy still kept the condoms behind the counter so he could monitor the teenagers and scare the shit out of them for daring to think about having sex. Doc Tyler should have been proud of them, at least they were the responsible ones, those who bought condoms instead of risking unprotected sex.

He glanced at the counter, and expected to see skinny Doc Tyler, eyebrows pulled low as he glared over the top of his half-moon glasses. Beau had thought he was old twelve years ago, he was probably ancient now. The guy had scared the ever-loving crap out of him when he was kid, but looking back, there was no-one who'd shown him more charity than the Doc. A tough word and a soft heart.

Instead of the old boy, a curvaceous brunette stared at him with eyes the color of cinnamon. Her startled gaze caught and held his with stunning luminosity and a hint of familiarity in them. His automatic reaction to the sight of a beautiful woman was to smile, but she ducked her head and applied herself to serving the middle aged lady who struggled to keep a pair of lively young boys in hand.

Zeke made straight for the counter, leaned his elbow on it and cupped his chin in his hand while he stared at the delicious, buxom morsel on the opposite side. With a flick of her hair, she lifted her nose and ignored him completely while she addressed her customer.

"Thank you Mrs. Porter, I hope it helps."

She gave a stiff smile while she kept her attention on the older lady who scrabbled with her package and hastened her two boys from the shop as though she believed Zeke's wild boy attitude was contagious. Beau glanced at Zeke who stared with puppy dog eyes at the assistant. Perhaps it was.

"Hey, kitty cat."

Beau tried not to roll his eyes, but his brother was so predictable, his deep Irish voice smoothed the way for the next woman to take her place between his sheets.

"Zeke." All cool business, the woman raised an eyebrow and Beau sidled in closer, unable to resist the soft curve of her mouth, the wide invitation of her eyes.

"What can I help you with today?" The slow roll of her husky voice gave his breath a sharp hitch.

Beau imagined she'd practiced the line so many times in an attempt to avoid all the connotations and interpretations his bad brother could spin on it. Still, Zeke leaned in, gave her his undivided attention and a wolfish grin, "I need a party pack. What would you recommend?"

She drew in a long breath through her delicate nostrils and Beau watched with increasing interest as her ample bosom expanded. She blew out through beautifully sculptured lips and his mouth watered.

"Zeke, I think you know we don't carry adequate stock for your requirements," Beau almost spluttered out his appreciation of her cheerful rejoinder, but she held up one long, elegant finger "…but I can offer you these."

As she turned to the shelf behind her and bent over to reach the condoms, Beau stretched onto his toes to get a good look at her over the counter. The rounded globes of her ass were nicely enhanced by the tight stretch of her black skirt. His pulse kicked up and he gave an uneasy swallow. He lowered himself back down as she straightened and turned. The quick flick of her gaze caught his again before she gave her attention to his brother.

"Here you go, Zeke. I placed a special order just for you."

A soft choking sound came from Zeke as he picked the blue box up from the counter. Face blank, the pretty assistant stood stock still. The only giveaway was a rapid blink of her eyes as she waited patiently.

"You are an evil woman." Zeke managed to splutter out as he studied the box, then waggled the condoms at her. "I have never bought extra small condoms in my life."
Author Links
Author Website                              http://dianesaxon.com
Author Blog                                     http://www.dianesaxon.com/blogspot.html
Author Facebook Page                  www.facebook.com/authordianesaxon
Author Twitter                              @Diane_Saxon
Author Goodreads Profile            http://www.goodreads.com/user/show/19843221
Author Amazon   http://www.amazon.co.uk/Diane-Saxon/e/B00DDL4C5W/ref=ntt_dp_epwbk_0
Pre-order now!