I'm so happy to welcome Stacy-Deanne to the blog today for a fun Q&A centered around her latest release, Captivated, from Sugar and Spice Press.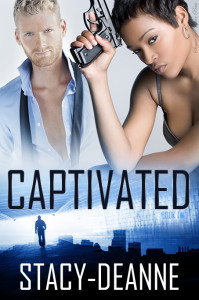 Captivated features a terrifying serial killer. What research did you do for his character?
This time I didn't do research for the character. I've been writing mysteries and crime fiction for years.  These are two of my favorite genres and I know a lot about the aspects of the genres. I've always been fascinated with serial killers. Villains are my favorite characters to write. One thing I know is that a good villain is always three-dimensional and keeps the audience guessing. Those are the reasons I find them so much fun to write about.
The Bruised series (of which Captivated is book two) combines romance, mystery, and suspense. Can you play favorites and tell us which one speaks to you more and why?
Mystery and suspense hands down. I've always loved these genres. As a child of the 80's I used to watch old Hitchcock films with my mom and that's what got me into the genre. I think Hitchcock is a genius and I am still amazed at how he put his plots together. I'm a mystery buff all the way. I am addicted to wanting to solve puzzles and that's my favorite thing about mysteries.
I absolutely love Hitchcock, too! To Catch a Thief was one of my inspirations for Love Unlocked.
What is one thing you can't write without? 
A computer! I would die if I had to write by hand. LOL! My handwriting is so bad that I can barely read what I write. Also I shudder to think of how longer the process would be if I had to go back and correct everything by hand. Just thinking about how tedious it would be makes my head spin. I don't know how writers of earlier generations got through it!
Good answer! I'm in love with my MacBook Air.
Give us a hint of what your current work in progress is all about.
Oh wow! LOL! I got a lot going on. Right now I'm finishing rewrites on a previously-published work that I'm getting ready to submit to one of my current publishers. I recently got the rights back for three books I have with a previous publisher. The book is interracial romantic suspense (of course) about a detective getting involved with the mafia to save her father's life. So there's a lot going on in the book.
I also have many new releases coming soon. Next is The Devil Has Many Faces from Amira Press which comes out April 4. Disturbed (Book 3 in the Bruised Series) is coming out April 12. Entangled (Book 4 in the Bruised Series) is coming out May 10th.  Both of those books are published by Sugar and Spice Press. I am very excited and always working on something new!
You sounds super busy. Keep it up, Stacy-Deanne!
Favorite toast topping? (Mine is crunchy peanut butter and homemade marmalade.)
I love grape jelly and grape jam but jam is my favorite. I can't have the regular stuff because I watch carbs and limit sugar intake so I eat the sugarfree kind when I'm in the mood. LOL!
Captivated:
Genre: Interracial Romantic Suspense
Release Date: March 1, 2014
Publisher: Sugar and Spice Press
Synopsis:
When she first lays eyes on Mya Riley's slashed up body, Baltimore Detective Lisa Swanson is certain that the Sandman, a ruthless serial killer from her past has reemerged. Lisa dives headfirst into the case with her partner Dee, and lovesick Winston Lewis, a detective who grows more captivated with Lisa by the day.
The Sandman wreaks bloodthirsty havoc throughout the city, and this time he is determined to make Lisa his victim.
Armed with intense hatred for the Sandman and a stifling fear of who might end up dead next, Lisa struggles to solve the case by the book. But when the Sandman switches up his plan and goes after her lover Jake…Lisa ignores all the rules.
Excerpt from Captivated:
"There's a song stuck in my head." He hummed it. "I was listening to it earlier but can't think of the name." He swayed Lisa while he hummed. "It's been a while since we danced." He twirled them around in circles.
Lisa laughed. "Whoa! You're putting all the moves on me."
"You always like it when I do this." He lifted the front of his wheelchair off the floor and came back down. "You like that, huh?"
"Whoa!" She laughed. "You're right. It's been a while since we went dancing." She put her hand in his as he swerved them across the kitchen. "So we can go dancing then." She lifted her head from his shoulder. "We could both use a break, don't you think?" She played with a button on his shirt. "We can go to the Rush."
He rolled his eyes. "How come we always go to the wheelchair nightclubs?"
"I thought it was your favorite place. I just want you to be comfortable."
"I want us to go dancing for real." He laid his arm on the armrest. "I used to love dancing." He got teary-eyed. "I miss that the most."
She kissed his hand.
"I wanna take you dancing like a real man would."
"You are a real man." She got off him. "And we can dance the regular way right here."
He got a paper towel off the table and dabbed his eyes. "What are you talking about?"
She went across to the living room and turned on the stereo in the entertainment system.
"Okay, let's find something good." She stopped on her favorite station that played old-school slow jams. The sultry beginning of Aaliyah's "Rock the Boat" began. "Uh-huh." Lisa bobbed her head. "That's what I'm talking about." She shimmied back into the kitchen.
"I love this song." Jake tossed the paper towel on the table.
Lisa stood in front of him and held out her hands. "May I have this dance?"
"What?" he whispered.
She bent down. "You said you wanted to dance the real way. Let's dance the real way."
"You know my legs are too weak."
She took his hands. "Then lean on me."
He took a deep breath and slowly rose from the chair. "Oh."
"It's okay." She put her arms around him. "I got you."
He stood straight and put his weight on Lisa. "I'm six three and two hundred pounds." He leaned on her. "I'm gonna crush you."
"I'm stronger than you think." She laid her head on his chest. "Just take it slow and relax."
He stumbled a bit then picked up his feet in perfect rhythm.
"Wow." Lisa held him tighter. "You're a smooth dancer, Jake."
His lips brushed her cheek. "This feels amazing." He swayed. "Just like the old days."
"See?" She moved her hand up his back. "Now you're leading." She lifted her head. "How does it feel?"
"I…" His voice cracked. "I haven't danced since two thousand eight."
"Well, you're dancing now." She kissed him. "And you're doing it beautifully."
Dream Cast:
Nia Long as Lisa
Ryan Philippe as Jake
Christian Bale as Winston
Publisher Link: http://www.sugarnspicepress.com/index.php?main_page=page&id=1&zenid=c3eb9402ba170decf717c8b78407b845
Captivated @ Goodreads: https://www.goodreads.com/book/show/19465039-captivated
Stacy-Deanne Bio:
Stacy-Deanne (Dee-Anne) is a published novelist of interracial romantic suspense and mystery novels. She started writing professionally in 1997 when she was nineteen years old. Stacy grew up loving the suspense genre. Her idols are Edgar Allan Poe and Alfred Hitchcock. Her love for Psycho and many of his movies fueled her fire for suspense.
She was born, raised, and resides in Houston, Texas.
http://www.stacy-deanne.net
Mailing List: http://www.stacy-deanne.net/newsletter.htm
Facebook: https://www.facebook.com/stacy.deanne.5
Twitter: @stacydeanne