Please welcome Tara Quan, here to tell us more about her new contemporary romance Delicious Delay!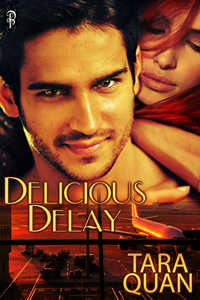 Guest Blog: In Search of the Adrenaline Rush
by Tara Quan 
Hi Libby. Thanks a bunch for letting me come over today to promote Delicious Delay, a contemporary multicultural romance. Taking place entirely in a Middle Eastern airport, it features an Arab Hero, a redhead heroine, and a scrumptious meal. If I've managed to pique your interest, the blurb, excerpt and buy links are at the end of this post (or here).
Writing romantic suspense taught me the utility of the adrenaline rush. A sense of peril, an element of the forbidden, and even something as simple as a ticking clock can propel characters along paths they wouldn't otherwise choose. Danger gives a relationship unparalleled momentum, and it's a great way to motivate the hero and heroine to be naughty.
My first contemporary romance, writing Delicious Delay was a challenge. For once, my characters weren't in a war zone, an evil sorceress wasn't about to destroy a desert kingdom, and zombies weren't breaking down the door. Having decided to set the romance in an airport lounge, external threats were out of the question.
Drafting this story taught me how to make attraction, physical intimacy, and falling for someone as suspenseful as a high-speed car chase. It made me remember how meeting a pair of midnight eyes could a heart pound—how the brush of skin against skin could obliterate all thought. In many cultures, sex is still very much taboo, and breaking the rules can lead to the ultimate adrenaline rush.
About Delicious Delay
Stranded in a Middle Eastern airport, Michelle Day finds herself the object of interest for an abrasive, but all-too-sexy stranger—a stranger who tempts her with the forbidden in a land where indecency could get her killed. But how does one say no to such a deliciously, relentless pursuit?
Khalid Al Dehri takes one look at the red-headed spitfire in the business class lounge and knew he'd either been transported to heaven—or hell. Her tart response to his surliness intrigues him beyond all propriety and the longer he spends in her company, the more he can't deny his forbidden attraction. But will she explore the sensuality between them or will society's rules keep them apart?
Get Delicious Delay 
Amazon | Barnes & Noble | All Romance eBooks | Decadent
Excerpt from Delicious Delay
He grinned. "So I have a proposal."
She tried to get her breathing under control, without much success. "Why am I sure it's an indecent one?"
He motioned his head toward the far end of the lounge. Latticed wooden screens gave that particular section more privacy. In an L-shaped room, the tucked-away location prevented a direct line of sight from the dining or reception areas.
He got up and offered her his hand. She hesitated for a long moment before taking it. With faltering footsteps, she followed him. More private or not, limits on how far this could go existed due to them being in an airport lounge. Since her self-control had chosen today to take a vacation, she appreciated the imposed constraint.
He lowered himself onto a plush leather sofa deep inside the cordoned area. With walls on either side and screens strategically angled, the space seemed to have been designed as a spot for people to nap.
On the brink of crossing a dangerous line, she hesitated. "What exactly do you have in mind?"
"I'm just giving you the opportunity to have your way with me," he offered, his face the picture of innocence.
She hadn't expected that answer. "I don't quite follow."
He kicked one of his legs out and tangled it with hers. She stumbled and instinctively moved her hands forward to brace herself. Her palms flattened over his hard muscled chest when she landed.
She traced the shape of his pectorals. "What do you do all day? Work out?"
He chuckled, the low rumble all male. "I have access to the best personal trainers money can buy. They help keep me honest."
She shook her head in disbelief as the man preened. "Have you heard of a concept called humility?"
"It's not one of my virtues," he admitted. "I've never understood the point."
She sighed. "It's the polite thing to do."
He placed his forefinger under her chin and tipped her head up, his expression playful. "So what is a sweet, polite, goody two shoes doing on top of me?"
About Tara
Globetrotter, lover of languages, and romance author, Tara Quan has an addiction for crafting tales with a pinch of spice and a smidgen of kink. Inspired by her travels, Tara enjoys tossing her kick-ass heroines and alpha males into exotic contemporary locales, fantasy worlds, and post-apocalyptic futures. Armed with magical powers or conventional weapons, her characters are guaranteed a suspenseful and sensual ride, as well as their own happily ever after. Learn more at www.taraquan.com
Website: http://taraquan.com/
Facebook: https://www.facebook.com/taraquanauthor
Twitter: https://twitter.com/laylatarar
Goodreads: https://www.goodreads.com/taraquan 
Amazon: http://www.amazon.com/-/e/B00B19HWJQ