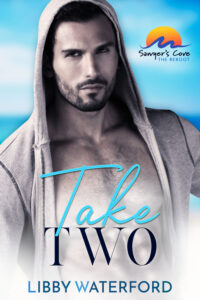 Take Two is out today and I couldn't be more excited to start off the Sawyer's Cove: The Reboot series with this book. I can't wait to hear what you think about Jay and Cami's second chance romance. This book also introduces you to Misty Harbor, the small town setting for all the upcoming Sawyer's Cove: The Reboot novels.
Misty Harbor is where they shot the (fictional) TV show Sawyer's Cove over a decade ago. We learn all about the show and how the stars will all be coming back together to shoot a new limited series right back in Misty Harbor. There's a lot going on this world and a large cast of characters who play other characters on TV. Whew! There are so many fun stories waiting in the wings and I can't wait to share more of them with you as this series progresses.
You can read Take Two now in ebook or order it in print. And don't forget to check out the free short story Kate's Take, and go all the way back to a day on the set of the original Sawyer's Cove where we get to meet all our characters as teenage heartthrobs.
Drop me a line anytime to let me know what you thought, and don't forget to leave a review at your retailer and on Goodreads!
xoxo,
Libby