I'm a generally cheerful, sunny person, but occasionally, often during the extra-bright days of summer, I hanker for some darkness. I turn to noir, films and books generally from the 1940s and 50s that have tortured heroes, femmes fatales, and rarely a happy ending in sight. Sometimes the best you can hope for in an ending is that all the characters you like aren't dead. Here are some of my favorites:
Laura – A 1944 film directed by Otto Preminger. This is a strangely romantic film about a detective who falls in love with a dead woman while investigating her murder. Juicy twists, a memorable sc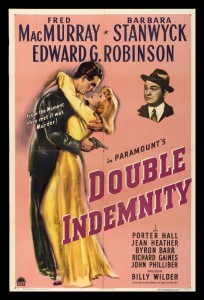 ore, and a wonderful performance by Dana Andrews as the detective.
Double Indemnity – The ultimate noir, directed by the incomparable Billy Wilder. The sexual tension and banter between Barbara Stanwick and Fred MacMurray, playing against type, is worth the price of admission.
The Big Sleep – The 1946 Humphry Bogart/Lauren Bacall classic was directed by Howard Hawks from a screenplay by William Faulkner based on Raymond Chandler's novel. Though it is sometimes criticized for basically having an indecipherable plot, it has heaps of classic LA atmosphere.
As far as novels go, I recommend anything by Raymond Chandler, especially The Long Goodbye, The Lady in the Lake, and The Big Sleep. James Ellroy is also pretty great. I love L.A. Confidential, both the book and the movie which simplifies Ellroy's sprawling plot considerably (and for the better).