I wanted to share some of the wonderful new romances I've been reading over the past few weeks.
A Need To Protect by Diane Benefiel. This is Diane's debut romantic suspense, and it is a doozy. If you like Nora Roberts's small town-set romantic suspense novels, you will probably like this one. I especially liked how well she captured the natural beauty and wonder of the Sierra mountain setting. The hero's unwavering, unconditional love for the heroine is pretty great, too.
Lover Enslaved by Eva LeFoy. This is another entry in the long-running 1NightStand series by Decadent Publishing. What's great about this multi-author series is that though each novel has its own style, you know that the participants in each one night stand Madame Eve orchestrates are destined to be together, forever. Thomas and Arjun are one such couple and they have both faced such difficulties that you can't help but root for them to get their happily ever after.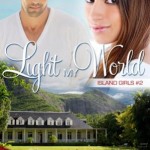 Light My World by Zee Monodee. I was surprised by Light My World. This sweet romance boasts interesting, well-drawn characters, but it also showcases the island of Mauritius, making you feel like you've visited and spent time with the locals by the end of the book. Well worth a read!