Charles Fleming, the author of the book Secret Stairs, has started a mini revolution in Los Angeles. People who have read his remarkable collection of guided walks have fallen in love with the numerous and sometimes quite enchanting public staircases all over our surprisingly hilly metropolis.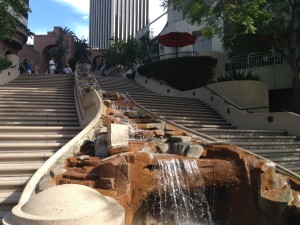 I used to go on walks all over the city with a friend. When she had a baby and moved away, and then I had a baby, I thought perhaps my days of exploring the city on foot were behind me. How wrong I was. For a period of about six months the only way I could get my baby to nap was walk around with him in the stroller or Ergo or take him for drives in the car. With baby in the Uppababy stroller, I learned the streets near my house backwards and forwards. On days when walking was impractical, I learned all the shady roads in Northeast L.A. And when my mom moved fifteen minutes away from me, we got Secret Stairs and decided to do all 42 walks.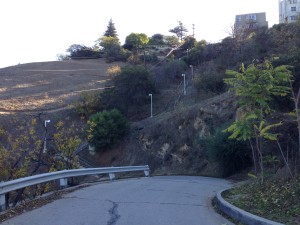 The exercise is a big component of why I stair walk. When we started, the baby was seven months old and weighed about 2o pounds. We have about 15 walks left and he's now 21 months and somewhere around 27 pounds. I'm hoping we can finish before he hits 30, since I'm carrying him on my back every step of the way! But it's nice to know I'm strong enough to get myself and a heavy toddler up a two hundred step staircase with energy to spare.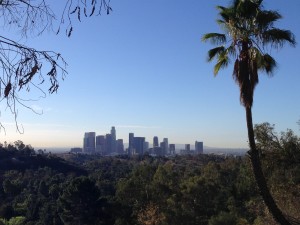 I feel like I'm so much more connected to the city now, or at least the parts we've covered, from Silver Lake to Eagle Rock. The staircases are often hidden, empty, and absolutely gorgeous. The views can be stunning. I don't know how many amazing vistas of the Griffith Observatory and the Downtown LA skyline I've gotten to see – but I feel like it'll never be enough.
Other perks of this hobby–architecture porn and landscaping porn. Are those even things? We love discovering tidy bungalows with perfect native plant landscaping or French chateau style houses on random hillsides. The streamline Moderne homes are always fun to see, as are the super-modern glass, steel, and wood squares that have popped up in the recent gentrifications of places like Echo Park and Silver Lake.
In a place so associated with cars and car culture, it's really refreshing and pleasant to interact with the city another way. And all the people carrying Secret Stairs that we encounter on our walks must think so, too.